Put a Banco Económico branch into your pocket 
EconomicoNet
Consult online your financial position, carry out transfers, request cheques and make term deposits without having to visit your local branch.
Banco Económico provides the very best Internet banking service for individual clients. EconomicoNet Particulares provides a broad range of services, in particular details on your financial position, domestic and international transfers, requests for cheques, subscribing to and making term deposits. You may also complete service payments and top-up mobile phone accounts.
Ease of usage
Available at any time and in any place
Accessible
Online service that is easy and simple to use and available across various devices (PCs, tablets and smartphones)
Secure
Heightened security for carrying out transactions
Economic
Lower priced services
EconomicoNet ensures you can constantly check up on your account and make operations, including: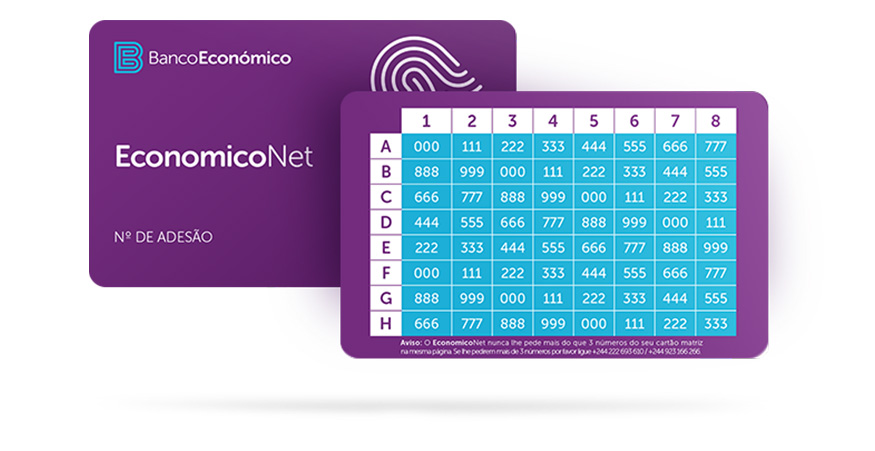 Checking your account
Financial assets and investments
Check up on your financial position
Summary of balances
Accounts
Account balance
Account movements
Check your NBA / IBAN numbers
National Operations
Transfers   
Occasional transfers
Group transfers
Standing Orders
Ongoing standing orders
Check your standing orders
Scheduled Operations
Consult your scheduled operations
Check your standing orders
Cheques
Consult your cheques
Consult your cheque book
Request a cheque book
Payments
Service payments
Special service payments ​
Telephone top-ups
Debit Authorisations
Consult your authorisations 
International operations
Transfers
International operations
Batch transfer
Coin
Savings
Term Deposits
DP consultation
DP reinforcement
DP subscription
Credit
Loans  
 Cards
Balance
Transactions
Bank Card statement 
Information
Account Manager
Account Limits
Transaction History Enquiry
Digital documents
Configuration
Security
Password change
Card Cancellation
SMS token Cancellation
Membership contract
In order to sign up to EconomicoNet, simply fill out the membership contract for users or individual clients (download here). Provide your personal details, hand in your form to your account manager or commercial assistant and await contact from Banco Económico. On joining, your manager or other staff member will give you a membership card with a pin mailer and your password for accessing EconomicoNet
Activation
Your membership request is submitted to a contract validation process carried out by Banco Económico. Should the information contained prove correct, your user profile is activated within 48 hours.​
Security
EconomicoNet holds a digital certificate that guarantees you every security in online access. For every financial transaction that you carry out on your EconomicoNet, the system shall request the introduction of three coordinates from your matrix card and, as from a particular amount, you shall receive an SMS code sent to the mobile phone number you have registered with EconomicoNet for an additional level of validation.